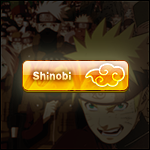 Golden Ninja Membership is a package which gives you a variety of benefits that normal players do not normally have accessable to them. This package is earned after donating an amount equal to twenty dollars(U.S) to the game's development and server upkeep.                                                                                                                  
Details and Inclusions                 
The Golden Ninja Membership includes a variety of bonuses, all of which do not set the benefactor ahead of any other player in any statistical way. These bonuses include but are not limited to;
A Gold Ninja Forum Rank & Badge
The ability to upload a Custom Profile Background & Custom Profile Music
One Character Name change per month
The ability to join up to 2 Organizations
These are the only bonuses awarded to Gold Ninja Members as of September 22nd, 2013. The Gold Ninjas who had donated prior to the end of Alpha Testing were also told they would be awarded a Golden Ninja Forehead Protector.