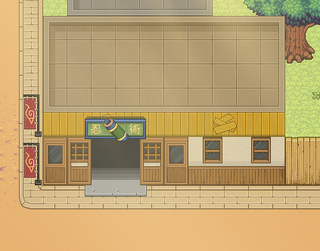 Yasuo's Scroll Shop is a Ninja Supply shop in the Leaf Village, located North-East of the Leaf Village's main gate and is on the path that leads to the administrator building(mid-north). You can identify it by the very distinctive sign above the door shown in the image to the right.
Yasuo, Blank Scrolls and Sealable Scrolls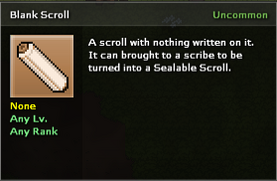 After many battles with the many mobs inhabiting Nin Online's world you will find yourself accumulating items known as Blank Scrolls. These scrolls are acquired by defeating any of the mobs in the world, the higher the level the mob the higher the chance that the mob has to drop these scrolls. It's been confirmed that the scrolls have drop chance of 1% on larva and 2% on all the other mobs (We aren't sure exactly in drop rate).
If you bring these Blank Scrolls to Yasuo, the attendant at the Scroll Shop, he will present you with the option to Enchant these scrolls and turn them into a tier of Sealable Scrolls.
Currently there are three tiers of Sealable Scrolls and each tier corresponds to a certain level range of jutsu. There is a success rate attributed to each tier of Sealable Scrolls as well, if you happen to fail to enchant a blank scroll then the scroll is lost.
| | | |
| --- | --- | --- |
| Sealable Scroll I | Level 1 - 19 | 50% Success |
| Sealable Scroll II | Level 20 - 29 | 30% Success |
| Sealable Scroll III | Level 30 - 39 | 10% Success |
Once a Sealable Scroll of any tier is acquired, you can then seal any technique within the corresponding level range into the scroll if it is within the capabilities of Yasuo. (See Below) - Links to all jutsus will be added later
Community content is available under
CC-BY-SA
unless otherwise noted.